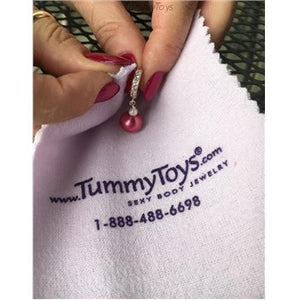 Professional Jewelry Polishing Cloth
Above is our Professional Polishing Cloth. This polishing cloth is perfect to keep your TummyToy shiny and looking it's best! It comes with detailed directions on how to polish your jewelry properly.
&nbsp
Professional Polishing cloths used to shine any metal.
&nbsp


Polishing Cloths measure to be 6in by 5in.
&nbsp


Polishing Cloths are gentle to use on gemstones.
&nbsp
                    &nbsp
All TummyToys Belly Button Rings Are Patented Exclusive Designs
&nbsp                                                     
Money Back Guarantee