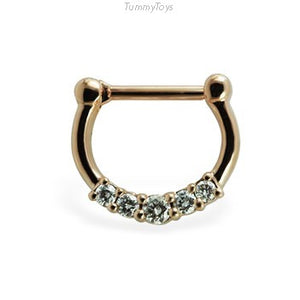 Solid 14K Rose Gold Septum Clicker with Diamonds
Solid
14K rose gold septum clicker
with diamonds that are prong set. This is one of our favorites from our gold septum clicker collection. We love the combination of the rose gold with the five natural diamonds. This piece looks absolutely stunning, and is the perfect design to show off your septum piercing! Learn more about the details of this beautiful rose gold septum clicker in the section below.
Product Features:
Septum clicker made from solid 14K rose gold.
Five large natural diamonds.
Classic "clicker" design made for comfort.
Easy to put on and take off.
Our designs are never plated, or filled. We only use solid gold.
Comfortable and ergonomic design.
FAQ:
I'm looking for a comfortable septum clicker, is this design easy to put on and take off, and will it become uncomfortable over time?

We pride ourselves on making the most comfortable body jewelry in the world. Our gold septum clickers are no different than our other designs. Comfortable, cute, and sexy!
Do your gold septum clickers contain any nickel?
No! We don't use nickel in any of our body jewelry designs.
What quality of rose gold do you use?
Our gold septum clickers are all crafted from solid 14K gold. Never plated or filled.
What is your return policy?
We allow returns up to 30 days after the date of purchase (unless the item has been severely damaged).
Do you make custom septum clickers?
This depends on the complexity of the design and the materials that you want to use. Send us an email with your design ideas and we will get back to you within two business days with more details regarding our custom design process.
~ All TummyToys Septum Clickers are Exclusive Designs ~
~ Made by Women for Women, in the USA ~
~ Money Back Guarantee ~
---
We Also Recommend